Camp Cooking Recipes
Ice Cream in a Bag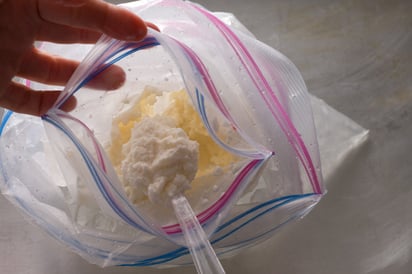 Ingredients (4)
3 tablespoon sugar
1 cup light cream (half and half)
1/2 teaspoon vanilla
Rock salt
Directions
Place sugar, cream and vanilla in a quart-size heavy zip-top plastic bag and seal.
Place that bag in a gallon size heavy zip-top bag. Layer ice and rock salt in the gallon bag and seal.
Toss the bag back and forth for approximately 10 minutes.
---
Cowboy Coffee – Cowboy Kent Rollins
Ingredients
1/4

cup

coffee grounds

1

quart

warm water
Instructions
If using a coffee pot, fill with water to the bottom of the spout and warm. Depending on what size pot you are using you can estimate 1/4 cup of grounds to 1 quart of water.

Add the coffee grounds and bring to a rolling boil. To prevent the water from boiling over, you can slightly reduce the heat when boiling. Boil for about 4 minutes- the longer the boil the stouter the coffee will be.

Remove the pot from the heat and let rest 2 minutes. Pour about 1/2 to 3/4 cup for smaller pots and 1 to 1 1/2 cups of cold water for larger pots down the spout and in the top of the pot. The cold water will settle the grounds.
---
Mountain Man Breakfast (Dutch Oven)
Start with the Meat
Start with a 12″ Dutch oven. This is a big recipe and a regular skillet or sauce pan is not going to cut it.
Start by frying up a pound of bacon. You can cut the bacon into pieces before you toss them in the pan, or you can crumble them after. When the bacon is cooked, remove the meat but leave the grease behind – we'll be needing it to stay in there for maximum flavor.
Crumble your breakfast sausage into the bacon grease and cook until no longer pink.
Get Out Your Hash Knife
Next up, we're going to add a combination of shredded potatoes, peppers, and onions that are actually a dish all by their lonesome. Start by chopped up a white onion and a red bell pepper. Add them to the sausage. Now, I roasted a poblano pepper, peeled and removed the seeds to limit the spice level – if you want spicy, keep the seeds in there. Dice and add to the pan.
Tip: While the roasted poblano is still hot, place inside a plastic bag with a tablespoon or two of water and set aside. In five minutes or so, the skin will easily peel right off.
Grab about two pounds of red skin or russet potatoes and grate them with your cheese grater. (If you want to know how to make crispy hash browns, click here). Let them sit in water Drain the potatoes, then roll them up in cloth and squeeze to drain as much moisture as possible. Add to the pot.
Tip: Roll grated potatoes up in a large piece of cloth to squeeze excess water and prevent oil spattering.
Simmer for about ten minutes, stirring occasionally.
Tip: If you ever want to make hash browns with peppers and onions, follow this exact recipe without the meat, cooking them in bacon grease or butter until crispy and brown.
Crack open six eggs and whisk them up good, stirring them into the Dutch oven. As soon as the veggies and potatoes are tender enough, pour the eggs evenly over the top. Sprinkle some salt or, for even more flavor, some Red River Ranch Seasoning.
Get your coals ready if you're cooking at camp. Place the coals around a trivet and place the Dutch Oven on top of it. Add coals to the lid, rotating the pot one way and the lid another from time to time to cook evenly.
Tip: When cooking or baking on hot coals, frequently rotate the pot one way and the lid the other way to cook evenly and avoid any hot spots.
Once the eggs firm up, add the bacon back into the pan and cover with shredded cheese. When the cheese is completely melted, crack five more eggs over the top. When the egg whites are cooked through, you're ready to chow down on all of this goodness.
Mountain Man Breakfast – Cowboy Kent Rollins
Total Time
1
hour
15
minutes
Ingredients
10

small red potatoes

or (2 pounds frozen hash browns)

1

lb

bacon

cut into bite-sized pieces

1

lb

ground breakfast pork sausage

1

white onion

chopped

1

red bell pepper

chopped

1

roasted poblano pepper

chopped

Kent's Original Seasoning

to taste or salt and pepper

1

cup

shredded pepper jack cheese

1

cup

shredded cheddar cheese

10

eggs

divided
Instructions
Heat the oven to 350 degrees F. Lightly butter a 12- inch Dutch oven.

If using red potatoes, grate the potatoes into a bowl and cover with water. Set aside. Skip to the next step if using hash browns.

Add the bacon to a 12-inch cast iron, or oven-safe skillet, or Dutch oven over medium-high heat. Cook until browned, about 5 minutes, stirring occasionally. Remove the bacon and place on a paper towel. Leave about 2 tablespoons of bacon grease in the skillet and discard the rest.

Return to the skillet and crumble in the sausage and cook until it begins to brown about 5 minutes, stirring occasionally. Stir in the onion, bell pepper and poblano.

If using red potatoes, drain the potatoes from the water and pat dry with a towel. Stir into the sausage mixture and cook until the peppers and onions are tender, about 4 minutes. Season to taste with Kent's Original Seasoning.
Place 6 of the eggs in a medium bowl and whisk until smooth. Pour the eggs evenly over the sausage mixture. Sprinkle the bacon on top. Bake for about 45 minutes or until the eggs set up.

Sprinkle the cheeses evenly over the top and cook for another 5 minutes or until the cheese melts. Crack the remaining eggs on top and bake until the eggs are sunny side up, about 5 minutes. Serve warm.
---
Drunken Potatoes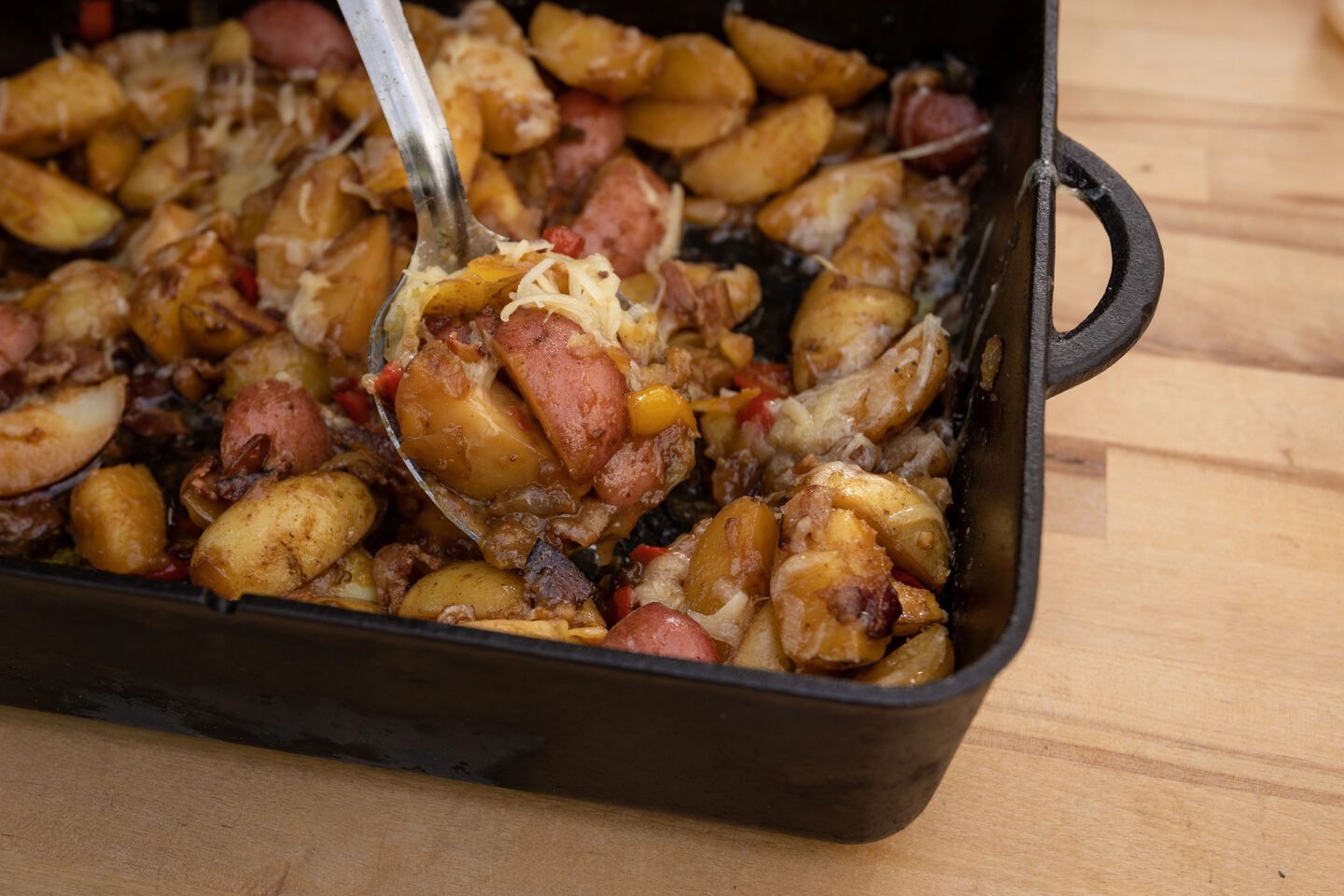 Prep time: 20 min
Cook time: 45 min
Feeds: 6-8
Ingredients
5 pounds of baby potatoes
1 pound of bacon, chopped
2 medium onions, chopped
2 bell peppers red and yellow, chopped
1-2 jalapeños, chopped
8-12 ounces of beer
8 ounces chicken stock
Sharp cheddar cheese, shredded
Salt and pepper to taste
Instructions
Step 1 – Preheat pellet grill 350°F. Open slide and grill feature (This can be cooked on any outdoor cooking equipment you desire medium-high heat).
Step 2 – In a 13-inch square Dutch oven cook bacon until browned, add onion and peppers cook until browned, aromatic and flavorful. Leave bacon fat in pan.
Step 3 – Add beer and stock. Add potatoes.
Step 4 – Cook at 350°F, or medium-high heat stirring occasionally. Cook until liquid has been reduced to a thick sauce around a 1/4 cup should remain, potatoes should be soft and tender.
Step 5 – Stir add salt and pepper to taste. Top with cheese if desired and serve.
---
Reuben Sandwich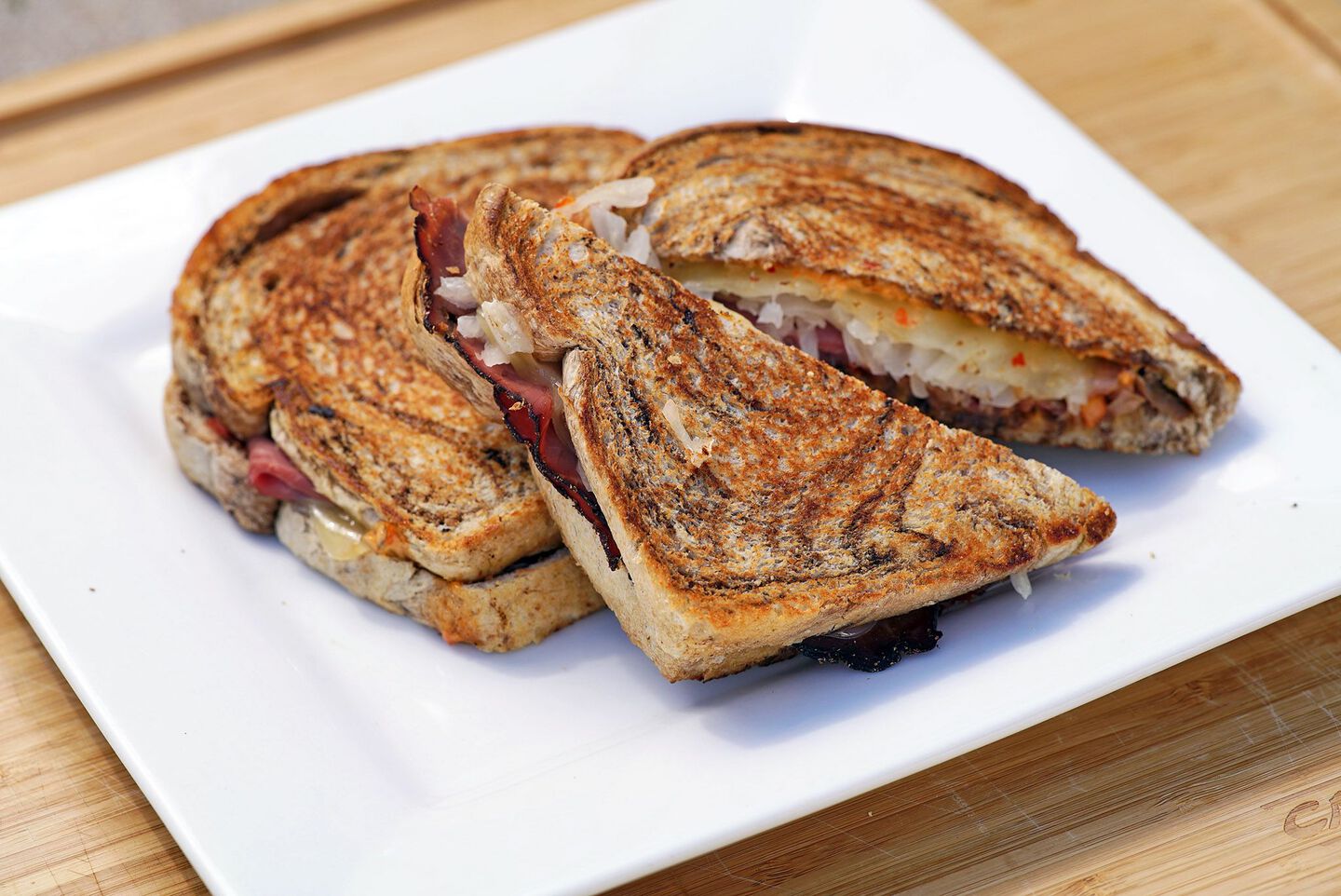 Prep time: 10 min
Cook time: 15 min
Feeds: 2
Ingredients
2 slices Rye Bread
1 Tablespoon butter, softened
1 Tablespoon Russian Sauce
Corned beef or Pastrami, sliced thin
1/4 cup Sauerkraut, drained
2 slices Swiss cheese, sliced
1/2 cup mayonnaise
2 Tablespoons chili Sauce
2 teaspoons horseradish
2 teaspoons pickle relish
Instructions
Step 1
Mix all ingredients for Russian sauce together, set aside.
Step 2
Preheat Flat Top Grill or griddle to medium heat.
Step 3
While your Flat Top Grill or griddle is heating up, spread one tablespoon of softened butter on the outside pieces of the rye bread.
Step 4
Then spread one tablespoon of Russian sauce on each side of the rye bread.
step 5
Place corned beef or pastrami on top of one side of the bread followed by drained sauerkraut, and top with two slices of Swiss cheese. Place second piece of bread on top of the sandwich (Russian sauce side down, buttered side up).
Step 6
Place the sandwich on the grill or griddle and place the Bacon Panini Press or cast iron skillet on top of sandwich and cook until the panini is golden brown and cheese has melted.
Step 7
Serve with a pickle and additional Russian sauce if desired.
---
Ultimate Breakfast Burrito
Crispy Hash Browns
Frying up some hash browns adds a delicious crunch to every single bite of this burrito. It's important to do this part right, or you'll just end up with soggy, greasy potatoes.
Start with a russet potato. Peel off the skin and grate the potato with a cheese grater. Now's the important part: Soak the potato shreds in a big bowl of water. The water will turn cloudy – that's the starch. Rinse the water and repeat until the potato shreds can sit a moment without the water becoming cloudy.
Tip: Using water, remove all the starch from the potato shreds so they will fry up crispy.
Why is this so important? Well, that potato starch gets in the way of frying these hash browns up to a crisp. Make sure you remove the starch and dry the shreds very well, or they'll jump out of the fryer and bite you when it's time to cook 'em. If you love hash browns as much as I do, here's a video on how to make them perfect.
Tip: Dry the potato shreds with a tea towel. Paper towels won't absorb enough water.
Ultimate Breakfast Burrito – Cowboy Kent Rollins
Ingredients
1

large russet potato

peeled

3

cups

fry oil

½

pound

ground pork sausage

4

slices

thick cut bacon

4

large eggs

beaten

Kent Rollins' Original Seasoning

1 4

ounce

can diced green chilis

1 14. 5

ounce

can refried beans

2

teaspoons

garlic powder

1

teaspoons

cumin

2

teaspoons

smoked paprika

2

10 or 12 inch

flour tortillas
Hot Green Salsa
1

4 ounce

can tomatillo sauce

4

jalapenos

1

white onion

diced

2

garlic cloves
Instructions
Grate the potatoes into a bowl with water. Rinse and drain at least 4 times to remove the starch. When the water is clear, set aside. Dry well with a tea towel.

Pre-heat the frying oil to 350 degrees. Fry the hash browns, stirring occasionally to prevent sticking. When potatoes are crispy and golden, remove to a paper towel to drain. Keep warm.

In a cast iron skillet, over medium heat, crumble in the sausage and cook until ¾ths done. Remove the sausage from the skillet and place in a warm spot.

To that same skillet, add the bacon and cook for about 5 minutes or until crispy brown. Reserve the grease for later use.

In a mixing bowl, add the eggs and beat until smooth. Season with Kent Rollins' Original Seasoning or salt and pepper. Add in green chilies and sausage and mix well.

Pour the egg mixture in the cast iron skillet over medium heat and stir well. Cook for about 4 to 5 minutes, stirring occasionally.

In a small saucepan over medium low heat, add the beans. Stir well to mix. Add garlic powder, cumin, and smoked paprika and cook for about 3 to 4 minutes, stirring occasionally.

Place the tortillas on a flat board and coat the middle with ⅓ of the beans. Add one strip of the bacon and top with the egg mixture. Add cheese and bacon. Sprinkle the hashbrowns on top.

Fold the ends in first, then wrap the sides over. Repeat with remaining beans, bacon, eggs, and cheese.

In the cast iron skillet, over medium heat, add the leftover bacon grease.

Lay the burrito in the bacon grease seam side down and cook for about 1 to 2 minutes. Roll the burrito over and brown the other side. Remove to a wire rack to drain.
Hot Green Salsa
In a medium saucepan, add enough water to cover the jalapenos and onions. Place over high heat. Add the garlic. Let it come to a boil and cook for about 5 minutes or until the onion is tender.

Remove from the heat and drain. Put the onion, jalapeno and garlic and place in a blender. Pour in the tomatillo sauce, add a little salt and blend on high until smooth.
---
Before the Trip Recipes
Homemade Smoked Jerky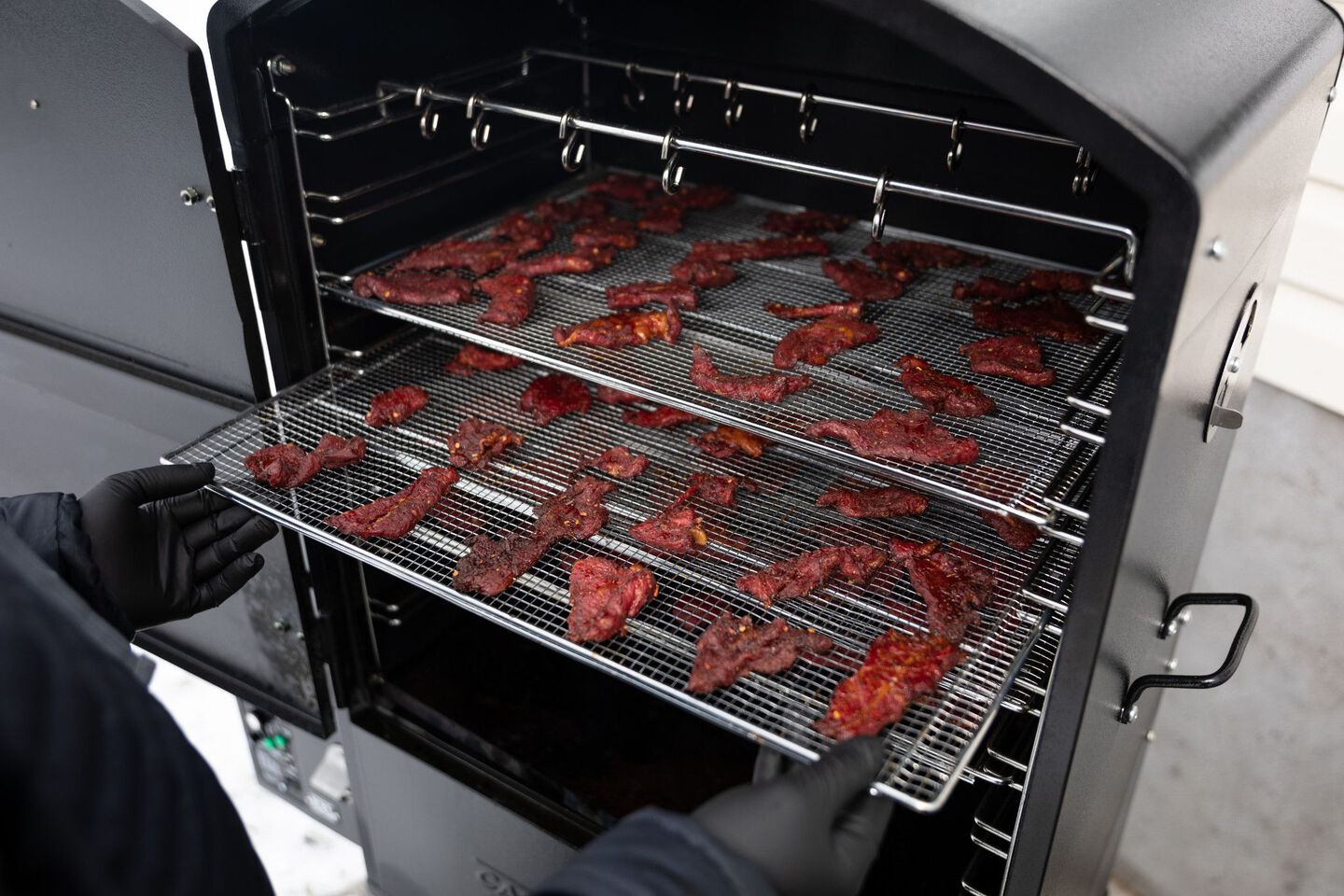 Prep time: 15 min
Cook time: 2 hours
Feeds: 3-5
Ingredients
2 pounds eye of round roast, sliced to 1/4
(Keep in mind that jerky shrinks up quite a bit, so a 2 lb. piece of meat will get you about a pound of jerky.)
3/4 cups Worcestershire sauce
3/4 cups soy sauce
1 tablespoon honey
2 tablespoons coarse ground black pepper
1 teaspoon garlic salt
1 teaspoon onion powder
1 teaspoon curing salt
Instructions
Step 1
Start by getting eye of round roast; it's a great combination of muscle and marbled fat. Most good butcher shops will slice the roasts for you if you tell them you're making jerky.
Step 2
If they don't, you can slice the meat yourself into 1/4-inch thick slabs for thicker jerky or 1/8-inch thick slabs for thinner jerky.
Either way, you want to try to be as consistent as possible so you can cook all your beef jerky for the same amount of time. You don't want to overcook super thin pieces while you're waiting for thick pieces to finish. From there, slice the slabs into strips, preferably against the grain (this makes it easier to eat).
Step 3
Next, combine all ingredients besides the meat in a mixing bowl.
Step 4
Next, combine all ingredients besides the meat in a mixing bowl.
Step 5
Seal the bag and massage the meat until all the slices are evenly coated. Refrigerate for at least 4 hours. It's not a bad idea to take the bag out on occasion to knead or mix the meat and marinade around.
Step 6
After a good chill, take the meat strips out of the bag and lay them on a couple of jerky racks so none of the slices are touching. Place them around the center of the racks so no pieces get overcooked on the edges. You can sprinkle extra pepper or seasonings on at this point if you'd like.
Step 7
Heat your smoker or pellet grill to 225°F, and smoke the jerky for 2 – 2 1/2 hours.
Step 8
When the jerky is done, it will be dark in color and tough to the touch. You can use the "Bend Test" to make sure each piece is finished: try bending one piece of jerky in half; the piece shouldn't break or fray, but it shouldn't feel flimsy. If your jerky is somewhere in that sweet spot between brittle and flexible, it's ready.