Agri-Copia
October 15th & 16th 2022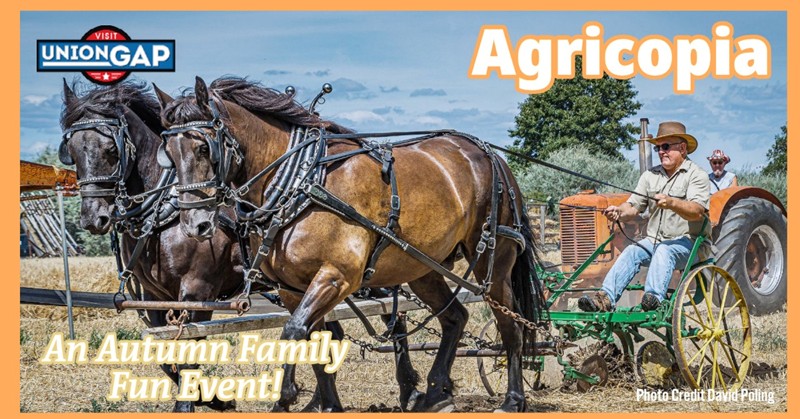 It's the 7th Annual AGRI-COPIA celebrating the rich agricultural history of Central Washington! This event is presented by the Central WA Agricultural Museum, the Horse~n~Harness Group of the Central WA Ag Museum, and the WA Draft Horse & Mule Association.
This is an agricultural event that is family friendly, educational and includes free admission (donations suggested for wagon rides & pumpkin decorating). All proceeds benefit the Central WA Ag Museum & help keep free admission to the museum available all year long!
Make & enjoy S'mores kits for kids Saturday from 10-2, courtesty of Erin Kline Aleman, Real Estate Services!
Saturday Schedule Differs from Sunday, please see schedule below. EWE Chuckwagon will be on site for food purchases!
Enjoy:
Exhibition of the horses in draft along with the Draft Horse Gentle Giants
Horse Drawn Wagon Rides, Old time Horse Driven Plowing Bee
With participating members of the Washington Draft Horse and Mule Association
Ag Museum demos & exhibits
Vintage Tractor Games-Come drive a vintage tractor!
A REAL Mini Excavator for the kids to operate
"Draft Horse Q&A
Pumpkin Decorating for Kids on Saturday!
S'mores kits for kids on Saturday!
*******************
SCHEDULE:
SAT, OCT 15 | 9:30AM – 4:00PM
Museum Exhibits: Blacksmith & Apple Packing
Draft Horse Exhibition: Belgians, Mini Horses, Percherons, Quarter Horse, Shetlands & Shires
Old Time Horse Driven Plowing Bee: All Day
Vintage Tractor Games: Come Drive a Vintage Tractor – All Day
Draft Horse Q&A: 9:30am-10am
Horse Drawn Wagon Rides:10am – 2pm For the Whole Family! Donations Appreciated.
Mini Excavator: Kids Can Operate – All Day
Pumpkin Decorating for Kids:10am-2pm (First 100 Kids!) Donations Appreciated.
S'mores Kits for Kids: 10am-2pm Provided by Erin Kline-Aleman, Real Estate Services
EWE Chuckwagon on site for food sales
SUN, OCT 16 | 9:30AM – 2:00PM
Museum Exhibits: Blacksmith & Apple Packing
Draft Horse Exhibition: Belgians, Mini Horses, Percherons, Quarter Horse, Shetlands & Shires
Old Time Horse Driven Plowing Bee: All Day
Vintage Tractor Games: Come Drive a Vintage Tractor – All Day
Draft Horse Q&A: 9:30am-10am
Horse Drawn Wagon Rides:10am – 2pm For the Whole Family! Donations Appreciated.
EWE Chuckwagon on site for food sales
***The beautiful event photo, taken during the 2021 Agricopia, is courtesy of David Poling Photography***